It takes guts, courage, and brave decisions to steer your life in another direction! "What if I don't try it" or "Will I be successful" a question each would-be entrepreneur ask himself, and the only way to find out is by doing it! Yes, it is a risk, but living unhappily the way you are is risky as well. But such risks get a bit less if you have the talent and the passion to succeed. Shea Gribbon is such young talent, he has an eye for detail, and his paintwork and repairs bring a new life to old and damaged things (material things I have to add..lol) Known Shea and his family for many years now due to be introduced to him by his good friend Marc Heaney who was a successful graduate of the Belgian Project (incidentally, Marc has started his own venture as we speak and will be highlighted next week) Shea is since 2019 also a *sponsor in kind of the project* and will introduce in 2021 a Belgian Project cycling shoe to raise funds for me, all going well, something I really look forward to judging by his work so far. His story in his own words here below, a must-read for anyone who asks himself the questions above…good luck Shea, with your drive and determination you will succeed!

The next chapter…by Shea Gribbon

Today, I completed the last day in my 'real job'.
For just over a year-and-a-half I've been spending most of my spare time customising shoes.
At school, I was known as the 'arty' one. I have always wanted to become a designer. In the fourth year, I decided I wanted to be a product designer, get a job in a cool company, and design cool stuff. I got my master's degree in Product Design at Coventry University.
I got a job working for the BLK BOX, a young company designing gym equipment. It was great. I loved it. Every day was something different.
A few months after I started working in the BLK BOX, I and my best friend tried to start a brand – Pedal Pushers. The plan was to sell t-shirts. We tried but with both of us unable to dedicate the necessary time and make it happen, it dwindled. But that was fine. We gave it a try and learned some great lessons. It's all part of the journey.
In between that, I started working on the shoes. I remember seeing @Velokicks and thinking it would be cool to do something like that, paint on shoes. A friend tagged me under a Velokicks post and it gave me the incentive to give it a try.
I bought what was needed and refurbed a pair of my old shoes. I was happy with the outcome. My best mate was racing over in Belgium at the time and I asked him did he have any old shoes that I could practice on. Fortunately, he did.
I did a pair of his old shoes in a kind of tribal, graffiti style. I put them up on Instagram/Facebook and the response floored me. I started getting orders immediately.
So I thought of a name, made a logo and The Shoe Dr. was born.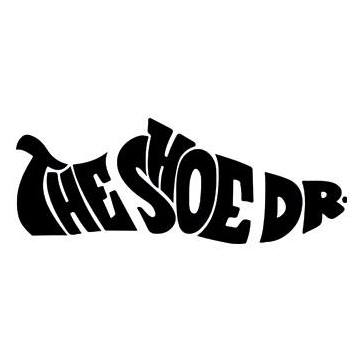 At this point, it was only a bit of fun, something to do in my spare time. A creative outlet.
Next up was the Rick and Morty shoes – these shoes gained further interest and they grabbed the attention of Velokicks.
Soon the orders were really mounting up and I was snowed under. I was still working in the Pizza Man, doing my 9-5, then spending every spare minute working on the shoes.
My day consisted of getting up at 6:30 am, driving 55 miles to work, getting home around 5:30 pm, then working on the shoes until the early hours of the morning. Then up again at 6:30 am…
It started to affect my mental health. I felt like I was on a hamster wheel. I also stopped doing something I loved – cycling.
I was not in a good place so I started looking for a job closer to home. I figured the time spent traveling was killing me.
I loved BLK BOX, I loved the people I worked with, but I was getting so much out of working on the shoes – and I wanted to spend more time at it.
Specialist Joinery is a really successful company in my hometown, Maghera. It's literally five minutes from my house. They offered me a job and I took it.
At this time I was doing no physical exercise at all and still feeling pretty shit. I contacted Paddy Heaney, the owner of the Train Station Fitness Academy. I told him I thought Personal Training at his gym would be the solution. Paddy told me it wouldn't solve anything at all if I didn't get my work/life balance in order. Not many Personal Trainers would turn away business but I know Paddy had my best interests at heart. Paddy told me to take a few months, get myself sorted, and come back to him.
When I came back to Paddy, he had the perfect option for me.
He had started a Strength Camp for Men. Three sessions a week. It's sociable, there is a great atmosphere and I love it. Signing up for Strength Camp was one of the best decisions I have ever made.
Then the coronavirus hit us. I got furloughed and that gave me an opportunity to spend more time working on the shoes.
I had no constraints. I was able to devote my full attention to painting and I loved it.
When I went back to work, it became increasingly obvious to me that I was going to have to take the leap.
Initially, I feared that I might live to regret taking the plunge. I felt more worried about what people would actually think of my decision to quit a steady job to "paint shoes" instead of thinking about how it would benefit me.
Then, it reached the stage where I was convinced that I would regret not taking the plunge.
I was listening to countless podcasts about starting businesses and mental health, so a shout out is in order to @reblescreate @phoneafriendpod @craicboys98 – three of the best podcasts around.
Listening to @bradwiggins chatting about his mental health and life after the yellow jersey was also a great help.
Finally, @tommy_mallet clinched it for me, I listened to his 1 hour 30 mins talk on his story 3 times consecutively about what he had to go through to make it, the sacrifices and challenges, and doing his own thing.
So I discussed it all with my parents, friends, and family and reached a decision. I have given myself one year to see what happens.
If I fail, at least I will have tried. But I'll not die not knowing!
I've finally gone for it. I've quit my job at Specialist Joinery, I'm all in.
At present, I have plenty of work to keep me busy.
A shout out to Velokicks for being a massive help to me. Without them, and Nick specifically, I wouldn't be writing this. He is a top guy and a good friend.
I've no regrets. I believe everything up to this point has happened for a reason. It's all part of the journey. Thanks to everyone who has helped along the way, especially my parents and my friends.
So here it goes…Shea, The Shoe Dr.